August 22, 2016 — Vilas County
Little John Junior Lake, Northern Highlands American Legion State Forest
Canada Darner
(
Aeshna canadensis
)
Photographed
15-20 seen, several caught and released. Warmer day. Many Darners flying.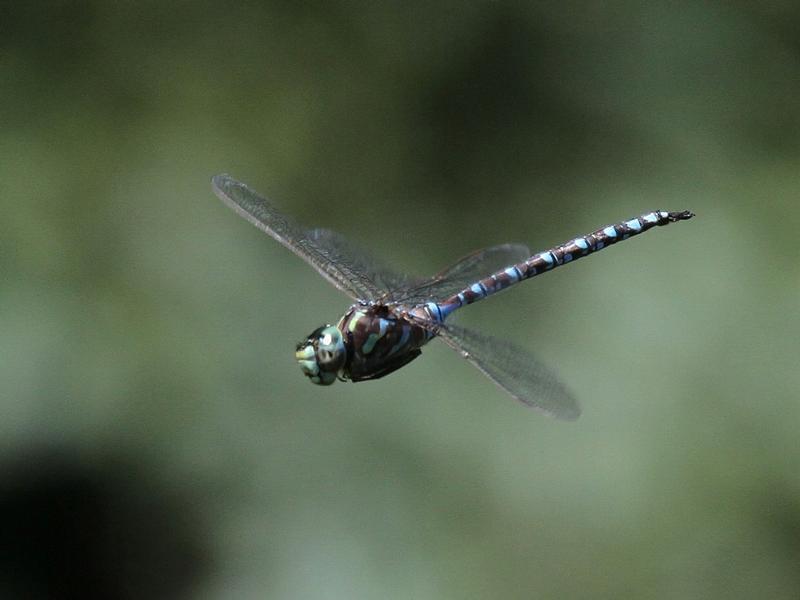 Common Green Darner
(
Anax junius
)
Observed
1 flyby
Lake Darner
(
Aeshna eremita
)
Netted and released
1 caught. A few flying.
Mottled Darner
(
Aeshna clepsydra
)
Collected
Caught 2 males. Several more seen patrolling along weed bed. Different flight pattern than A. canadensis and A. eremita. A. canadensis patrols small area and stops and hovers regularly - usually at edge of emergent weeds and sometimes over them. A. eremita flies slow but directional patrol along edge of emergent vegetation or even farther out over lilies. A. clepsydra flies a slow but directional pattern at edge of emergent vegetation with many pauses and/or reductions in speed (about walking pace). Identifiable in flight by lighter blue color and overall more blue than dark brown.
Williamson's Emerald
(
Somatochlora williamsoni
)
Observed
1 male flying over weed bed
Autumn Meadowhawk
(
Sympetrum vicinum
)
Observed
dozens / hundreds along shore
Calico Pennant
(
Celithemis elisa
)
Observed
Several males and a couple ovipositing pairs
Twelve-spotted Skimmer
(
Libellula pulchella
)
Photographed
1 male
White-faced Meadowhawk
(
Sympetrum obtrusum
)
Observed
many
Eastern Forktail
(
Ischnura verticalis
)
Observed
many
Northern Spreadwing
(
Lestes disjunctus
)
Observed
a couple
Slender Spreadwing
(
Lestes rectangularis
)
Observed
several
Swamp Spreadwing
(
Lestes vigilax
)
Observed
a couple