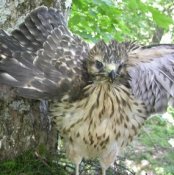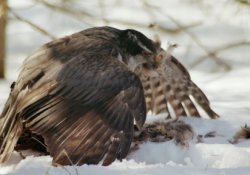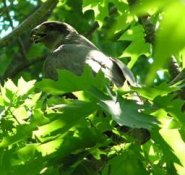 Forest Raptor Reporting Form
The Reporting Form is intended to allow professional and lay people the ability to report observations of Northern Goshawks, Red-shouldered Hawks, and Merlins to DNR staff. At this time we are only interested in these 3 species. We are keenly interested in receiving reports of these species observed defending or perched at nest structures during the nesting season. To submit an observation, please fill out all fields on the reporting form and add comments about any other information you think is worth noting.
We will assign a priority rank to each report based on the information you provide. A raptor biologist will likely contact you for additional information if your report is assigned a high priority. Specific directions to an observation site can be added in the comments field.
Contact Jim Woodford if you are having problems or questions with the form, or if you wish to report an observation in person.
Go to the Forest Raptor Reporting Form
< Back >



Photos (from left): Red-shouldered Hawk nestling -- Jim Woodford; Northern Goshawk with prey -- Michele Woodford;
Adult Northern Goshawk -- Jim Woodford.