Gomphidae, Clubtail Family
"Most Wanted" Species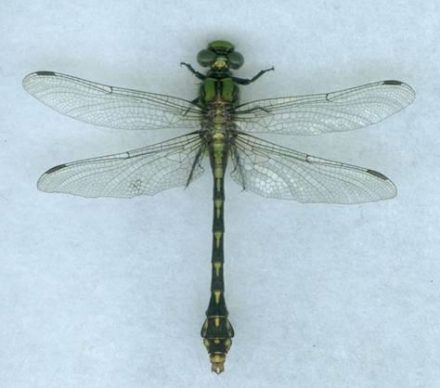 Status-Global/State:
Distinguishing Characteristics:
The recently described St. Croix snaketail averages about 2.0 inches in length. The thorax is blue-green with black shoulder stripes and two stripes on the thorax. The eyes are gray-blue. The legs are black except at base. The abdomen is black with yellow markings, with the tip yellow. Ophiogomphus species are very similar to each other in some aspects, careful inspection is needed to identify those snaketails.
Description of Habitat/Range:
The St. Croix snaketail is limited to Wisconsin and parts of Minnesota, especially along the St. Croix River drainage. It prefers medium-sized rivers that are clear, fast-flowing with mixed gravel, sand, and rock bottoms.
Flight Season:
Mid-May to late June in Wisconsin.
(Click on photos to enlarge)