Gomphidae, Clubtail Family
Possible Species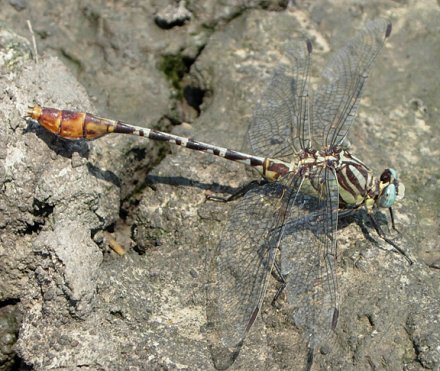 Status-Global/State:
Distinguishing Characteristics:
The flag-tailed spinyleg varies in length from 2.2 to 2.6 inches. The eyes are blue. The thorax is yellow-green with black shoulder markings. The abdomen is generally yellow with black markings with the exception of the end of the abdomen. The male club is vertically flattened with its sides pale yellow to rusty orange. The female club is slender and yellowish to rusty brown. The back legs have 4 -11 unusually long comb-like spines.
Description of Habitat/Range:
This is a southern species that may not occur in Wisconsin and there is just one questionable historical record. They prefer rivers with mud-bottomed pools, possessing heavily to sparsely forested banks. Also mud-bottomed lakes and ponds with clear to muddy waters.
Flight Season:
The flight season generally is from early July to mid-September range-wide.
(Click on photos to enlarge)