Lestidae, Spreadwing Family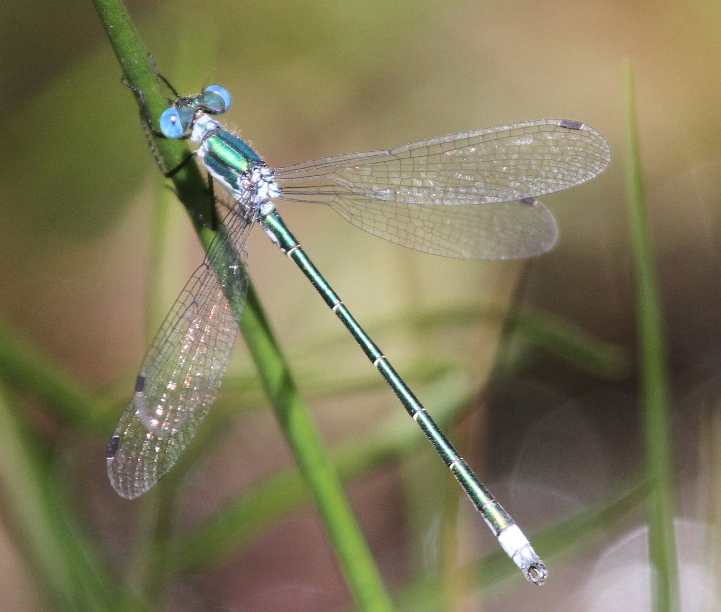 Status-Global/State:
Distinguishing Characteristics:
Varying from 1.3 to 1.6 inches, the emerald spreadwing has been considered one of the smallest and stockiest spreadwings. The male's thorax is bright metallic green above with thin pale shoulder stripes and pale yellow to pale blue sides. The abdomen is bright bronzy green above with a blue-gray tip when mature. The colors are obscured by pruinosity as the spreadwings age, especially in males. The male is more elongated than the female which is rather stocky. The female is duller the male and similar to other small spreadwings, although often very greenish above compared to the
northern
,
southern
and
lyre-tipped spreadwing
females. Like the
sweetflag spreadwing
, the ovipositor is very long. However, the emerald spreadwing has a metallic green thorax whereas the sweetflag spreadwing does not.
Description of Habitat/Range:
Ranging throughout most of United States (not southeast) and Canada, this species can be found at a variety of vegetated still-water habitats, often acidic and/or temporary, including marshy ponds and stream backwaters. In Wisconsin, it is infrequently found in mostly northern counties. However, we need to emphasize that the southern half of the state has not been adequately surveyed for spreadwings.
Flight Season:
Late June to late August in Wisconsin.
(Click on photos to enlarge)