Lestidae, Spreadwing Family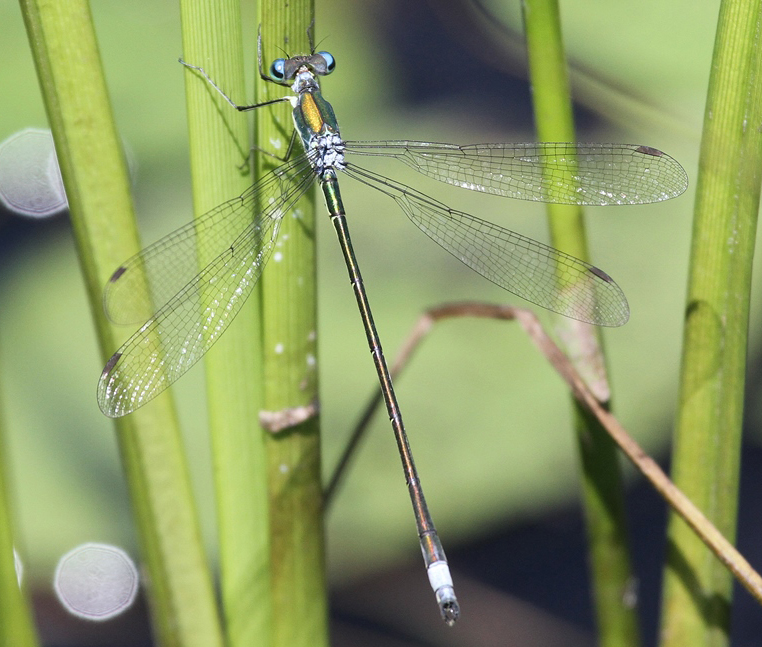 Status-Global/State:
Distinguishing Characteristics:
The elegant spreadwing is large, slender, and strikingly colored. It generally varies from 1.8 to 2.3 inches in the body length. The male's thorax is bright metallic green with lemon-yellow sides. The abdomen is bright green above with a blue-gray tip when mature. The colors are obscured by pruinosity as the spreadwings age, especially in males. The male is usually elongated with the female more sturdy. The female is similar but with somewhat duller coloration. Both sexes are very similar to the
swamp spreadwing
, but are larger and brighter green above and with less distinctive brown shoulder stripes. The
amber-winged spreadwing
is stockier, less greenish, has dark diagonal streaks on the thorax, and amber-washed wings.
Description of Habitat/Range:
This species is usually found at permanent ponds, slow streams, lakes, and marshy bays. The elegant spreadwing ranges throughout eastern United States and parts of southeast Canada. In Wisconsin, it has been found in low numbers at scattered locations around the state.
Flight Season:
Mid-June to early August in Wisconsin.
(Click on photos to enlarge)