Libellulidae, Skimmer Family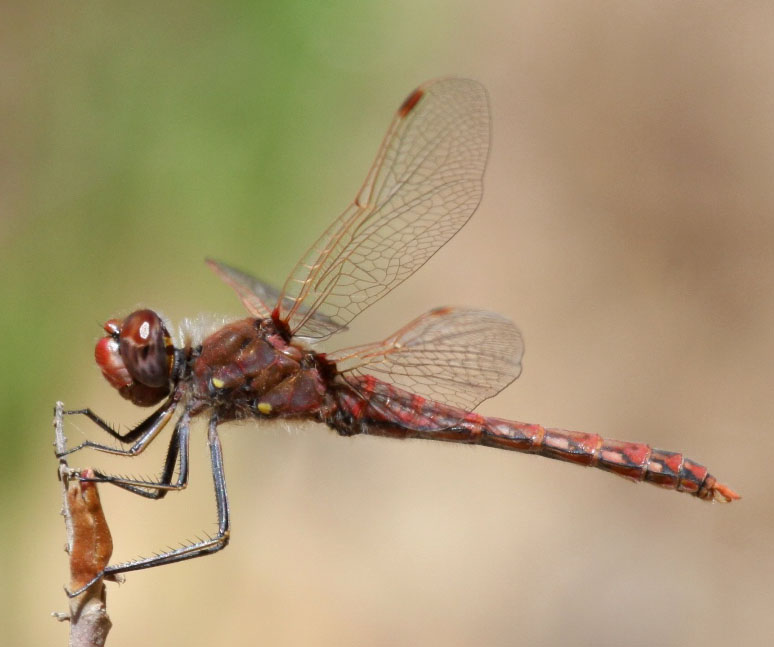 The meadowhawks form a group of small, late-season skimmers that can be difficult to tell apart. The
Kalosympetrum
subgenus in particular, which includes the
ruby
,
white-faced
,
cherry-faced
, and Jane's meadowhawks, are often difficult to distinguish and their taxonomic status is not in agreement among experts. To identify meadowhawks, notice the coloration of the face, legs, and wing veins in addition to the body. Mature males in all species, except for the
black meadowhawk
, have red markings, including females in some species.
Status-Global/State:
Distinguishing Characteristics:
This is an ornate and colorful species. Juveniles and females are orange to brown in overall color and have 2 white stripes on the side of the thorax with a yellow spot at the bottom end of each. Males turn red with maturity and gradually lose the stripes on the side of the thorax but retain the two yellow spots. The abdomen of both sexes has a complex pattern that varies with sex and maturity. Juveniles and females have bright white spots along the side of the abdomen which disappear with maturity in males. Mature males have a red face and eyes. Juvenile males and female have brownish eyes that turn partly lavender in mature females. The veins along the front edge of the wings are red-orange. The length of the body varies from 1.5 to 1.7 inches.