Libellulidae, Skimmer Family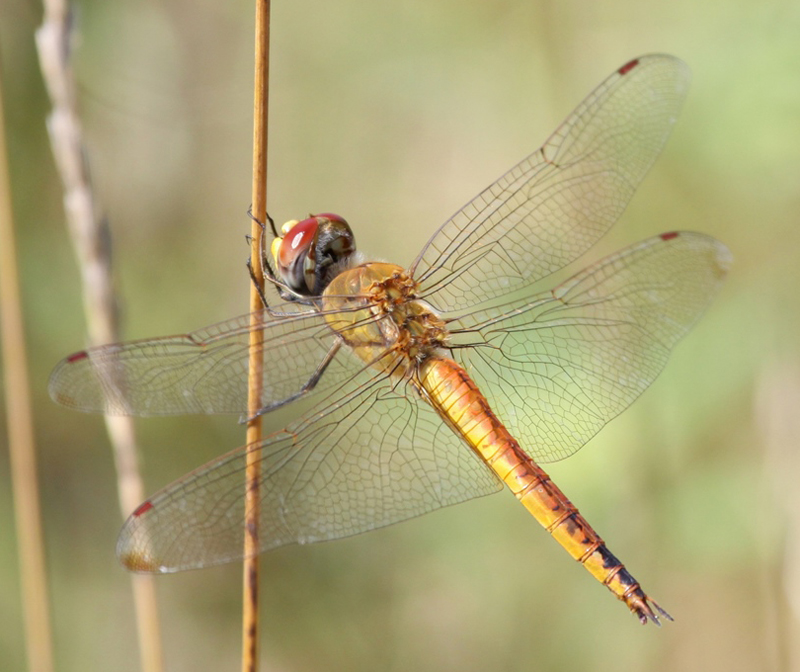 Status-Global/State:
Distinguishing Characteristics:
The yellow-orange wandering glider, with a yellow face with red eyes, is best known for its flying style, in which it seems to glide almost effortlessly with the winds. The hindwings form an elongated triangle, longer than abdomen, broad at base and reaching halfway down the abdomen. The wings have brown tips, especially in males. The length of the body varies from 1.9 to 2.0 inches. The abdomen is mostly yellow and tapered with a orange tint dorsally. The face is yellow with a red tint developing in males. The female's coloration is similar to the male's but duller and yellowish.
Description of Habitat/Range:
This species is common in United States and southern Canada. It is common in the south, while it is migratory in the north. It is usually found at small standing waters, including ponds and puddles, but also can be seen over fields, etc, well away from waters. It is widely distributed throughout Wisconsin, though infrequently seen in many areas.
Flight Season:
Late June to early September in Wisconsin.
(Click on photos to enlarge)