Gomphidae, Clubtail Family
"Most Wanted" Species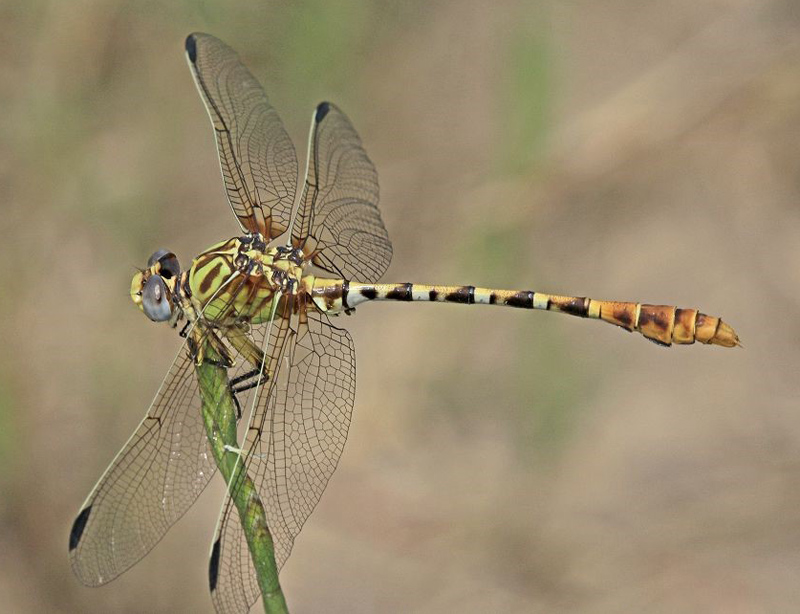 Status-Global/State:
Distinguishing Characteristics:
The eastern ringtail varies from 1.9 to 2.2 inches. The eyes are light blue. The thorax is dull green with narrow black markings and incomplete shoulder stripes. The front 2/3 of the abdomen is mostly black with pale yellow to off-white rings at the base of each segment and a yellow stripe on top of each segment. Female is more yellow in tone and base of abdomen may be dark brown rather than black. The male club is slightly flared with extensive orange tone and dark markings. Female club is slender and more black in tone. Wings of both sexes have brown spots at base.
Description of Habitat/Range:
Breeding habitat is sandy and gravelly streams and rivers with flow and riffles. Males patrol over riffles for short periods then hover and continue. Both sexes can be found in more open areas away from water. Will perch on ground and low in vegetation. This is a southern species whose range extends from the Atlantic coast to eastern New Mexico. An adult and exuvae were found for the first time in Rock County in 2022.

Please report any sightings and evidence of breeding (pairs in wheel, ovipositing females, tenerals, nymphs, or exuviae) to the Wisconsin Odonata Survey.
Flight Season:
The flight season generally is from early June to late September range-wide. Northern sightings range from late June to early September.
(Click on photos to enlarge)