Coenagrionidae, Pond Damsel Family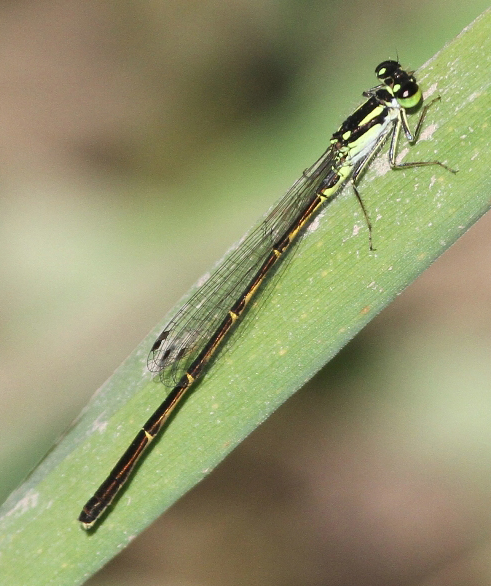 Status-Global/State:
Distinguishing Characteristics:
The fragile forktail has a very distinctive thoracic pattern, compared to other forktails. The name "forktail" comes from tiny projections off the tip of males' abdomens, which help to identify the species. The length of the body varies from 0.8 to 1.1 inches. The male's thorax is black above with broken green shoulder stripes (resembling exclamation marks) and pale green sides. The abdomen is black above with thin pale rings. The abdomen may rarely have a blue spot near the tip. The female is similar but the pale areas are bluish. As the females mature, they become pruinose blue-gray, obscuring distinctive shoulder stripes. But the females are never orange like other forktails. The old fragile forktail females will be difficult to distinguish from other old female forktails.
Description of Habitat/Range:
This species can be found at a wide variety of wetlands with vegetation including ponds, swamps, streams, and vernal pools throughout eastern United States and southeastern Canada. In Wisconsin, it is infrequently found at scattered sites throughout the state.
Flight Season:
In Wisconsin, adults have been documented from late May to early September.
(Click on photos to enlarge)