Libellulidae, Skimmer Family
"Most Wanted" Species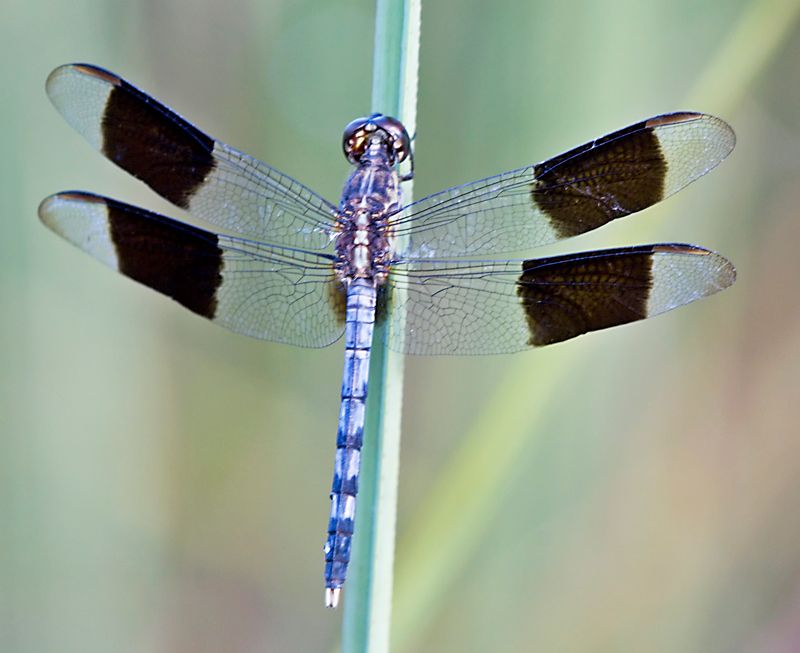 Six species of this primarily tropical genus are found in North America, but none had been found as far north as Wisconsin until this species was recorded twice here in 2012.
Status-Global/State:
Distinguishing Characteristics:
The male of this dark, slender, mid-sized skimmer is unmistakable. His wings each have a large, rectangular black band from midwing to (or approaching) the stigma (the male
common whitetail
also has a large black band on each wing but is otherwise very different). Females sometimes have banded wings like the males (andromorphs), but usually they lack wing markings and are mostly a drab brownish in color (heteromorphs). Heteromorph females can be identified by the dark brown marks along the side of the abdomen that are pointed in front.
Description of Habitat/Range:
Temporary pools and marshes surrounded by sparse or tall shoreline vegetation. This is a semi-migratory species that is common in the southern states from Texas to Florida and occasionally strays north of Arkansas and Oklahoma. In Wisconsin adults were first observed in Kenosha County then Milwaukee County in 2012. This species is not known to breed here. Please report any evidence of breeding (pairs in wheel, ovipositing females, tenerals, nymphs, or exuviae) to the Wisconsin Odonata Survey.
Flight Season:
In Wisconsin, both adults were observed in June. In Ohio it was observed from June into October. In Florida it flies year-round.
(Click on photos to enlarge)