These surveys have been discontinued. Continue monitoring bird populations by reporting your sightings to
Wisconsin eBird
. Questions? Contact Ryan Brady at
[email protected]
or (715) 685-8585.
Common Nighthawk © Ryan Brady

Background / Objectives
Nightjars, like other nocturnal or secretive bird species, are poorly monitored by existing programs and there is limited evidence to suggest that both Common Nighthawk and Whip-poor-will populations have declined significantly in the last 40 years. The Wisconsin Nightjar Survey was created to better understand population trends and distributions of these two species. This project is part of a large cooperative effort from the Northeast Coordinated Bird Monitoring Partnership and the United States Nightjar Survey Network in cooperation with New Hampshire Audubon, the Wisconsin Bird Conservation Partnership (WBCP) and other state partners.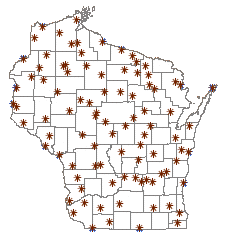 What participants can expect
The nightjar survey is an exciting opportunity for birders of any skill level to get out after dark to help monitor Whip-poor-wills, Common Nighthawks and other nocturnal creatures from the relative safety of rural secondary roads. Surveyors are asked to dedicate one evening per year during a short window in May-June. Each survey route consists of 10 stops along a road. Surveyors record birds heard for 6 minutes at each stop, and the entire survey takes approximately 90 minutes to complete. Survey dates change from year to year as the survey needs to be done when the moon is more than half full and above the horizon. See the detailed protocols here.
Observers in past years heard and saw lots of Whip-poor-wills, nighthawks, owls, coyotes, deer, frogs, and other unexpected nocturnal creatures. Refer to the protocol document to learn more about the survey.
For more information, contact survey coordinator Ryan Brady, Wisconsin DNR, at [email protected] or 715-685-8585.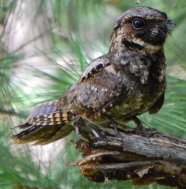 Whip-poor-will © Brendan Clifford
Results
In 2011, over 45 volunteers surveyed 53 routes statewide and detected 155 Whip-poor-wills and 6 Common Nighthawks during the primary survey window, along with 76 owls of three species. Results for Whip-poor-wills were up slightly from previous years, with 2.9 birds per route (vs. 2.3-2.4 in 2008-2011) and birds again concentrated in areas of dry, sandy soils amidst the central, northeast, and northwest parts of the state. Common Nighthawk numbers were again low -- survey design will need modification to better survey this species.
Preliminary Results of Wisconsin Nightjar Survey presented at the 2018 Annual Meeting of the Wisconsin Bird Conservation Initiative, S.O.S for Our Flying Bug Eaters: Addressing Declines in Wisconsin's Aerial Insectivores.
Additional Nightjar Survey Links
Wisconsin Nightjar Survey 2009 Annual Report
United States Nightjar Survey Network
Whip-poor-will Species Account: Wisconsin All-bird Conservation Plan
All About Birds: Whip-poor-will
All About Birds: Common Nighthawk
Monitoring of Owls and Nightjars (MOON) in Illinois