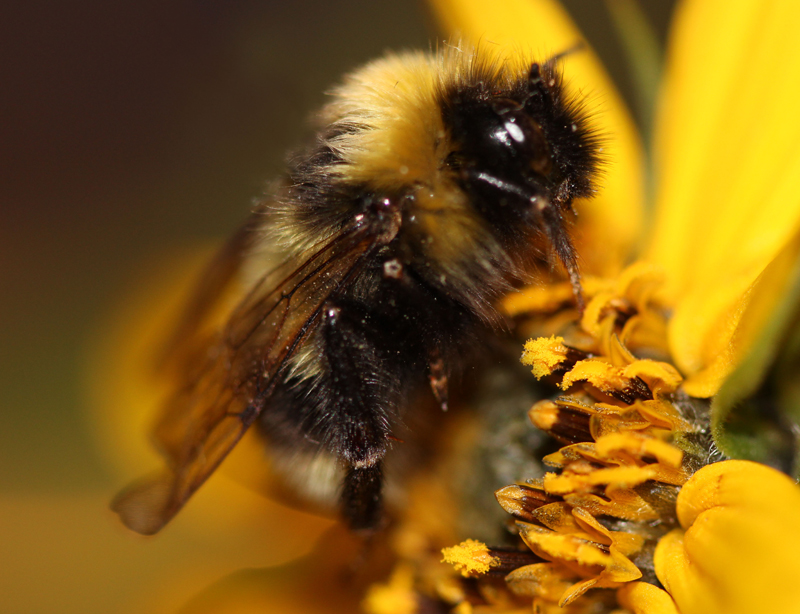 The Ashton cuckoo bumble bee is very rare and is declining rapidly in North America. Historically it is known from eastern and midwestern U.S., Canada, Europe, and Asia. As of 2015, it is only known from seven sites in North America (Hatfield et al. 2016). Wisconsin has a handful of historic observation records from northern and northeastern counties. The species was last reported in Wisconsin in 1979.
The Ashton cuckoo is a nest parasite of the rusty patched bumble bee (
B. affinis
) and the yellowbanded bumble bee (
B. terricola
) (Williams et al. 2014).
Cuckoo bumble bees (subgenus Psithyrus) do not have the ability to collect pollen and thus lay their eggs in the colonies of other species to raise their young (Hatfield et al. 2016). Only new, mated queens overwinter, emerging from diapause (a form of hibernation) in the spring. New queens kill or subdue the queen of a host colony and lay eggs, which the host colony raises. The resulting cuckoo bee offspring are all queens or males. New queens mate and enter diapause.
Status-Global/State: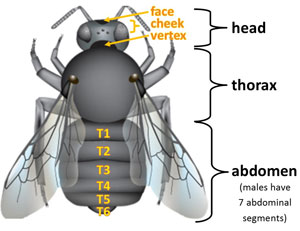 Identification:
Female – Face and vertex black. Thorax sides mostly black with a black spot or band between the wing bases; black band may be large extending to the abdomen. Abdominal segments T1-2 black, T3 mostly black with yellow on the sides, T4-5 with white and T6 black.
Male – Similar to female except males have light hairs on the face and vertex and have yellow instead of white hairs on the abdomen.
Other distinguishing features – Medium length hair. Cuckoo bumble bees lack corbicula/pollen baskets.
Similar Wisconsin Species:
Similar bumble bee species in Wisconsin are the Fernald cuckoo bumble bee (B. flavidus), and the indiscriminate cuckoo bumble bee (B. insularis) (Colla et al. 2011, Williams et al. 2014).
Counties with verified B3 observations (in green). [Updated 4/8/2022]
Description of Habitat/Range:
Habitat types are variable, and likely depend on host species. Overwintering sites are unknown.
Nectar Plants
Food plants include Cirsium (thistles), Melilotus (sweet clover), Rubus (blackberry), Rudbeckia (eyed Susans/yellow coneflowers), Solidago (goldenrods), Symphyotrichum, Trifolium (clovers), and Vaccinium (blueberry) (Williams et al. 2014, Colla et al. 2011).
Flight Season:
Historically, the majority of observation records in Wisconsin took place in August. Earliest records were in April and latest in October.
Literature Cited:
Colla, S., Richardson, L. and Williams, P. (2011) Bumble Bees of the Eastern United States. A product of the USDA Forest Service and the Pollinator Partnership with funding from the National Fish and Wildlife Foundation.
Hatfield, R., Jepsen, S., Thorp, R., Richardson, L. & Colla, S. 2016. Bombus bohemicus. The IUCN Red List of Threatened Species 2016: e.T13152926A46440141.
Williams, P.H., Thorp, R.W., Richardson, L.L. and Colla, S.R. (2014) The Bumble bees of North America: An Identification guide. Princeton University Press, Princeton.