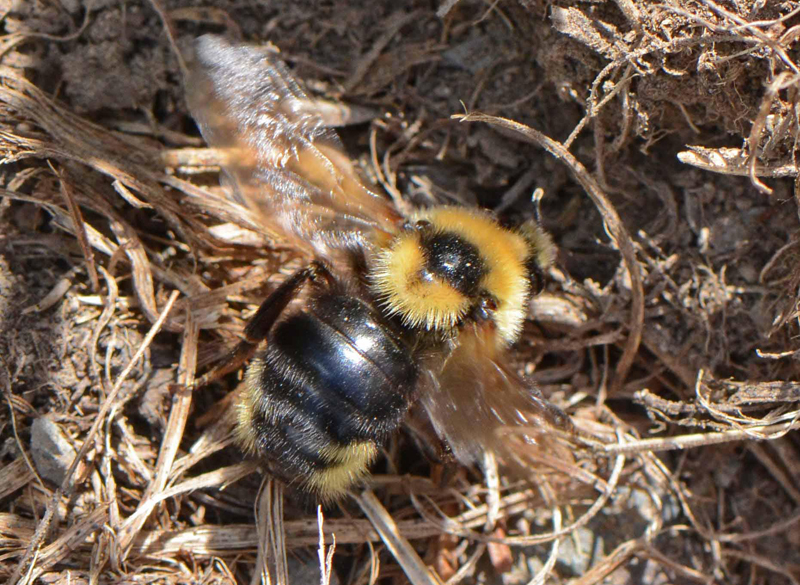 The indiscriminate cuckoo bumble bee is rare in Wisconsin. It is found in the northern tier of states in the eastern U.S. and in the mountains in the western U.S. The species seems to be disappearing from the northern part of its range in Great Lake area (Hatfield et al. 2014). As of 2018, Wisconsin has only three observation records, which were from Iron (1953) and Outagamie (2009) Counties.
Cuckoo bumble bees (subgenus Psithyrus) do not have the ability to collect pollen and thus lay their eggs in the colonies of other species to raise their young (Hatfield et al. 2014). Only new, mated queens overwinter, emerging from diapause (a form of hibernation) in the spring. New queens kill or subdue the queen of a host colony and lay eggs, which the host colony raises. The resulting cuckoo bee offspring are all queens or males. New queens mate and enter diapause.
Status-Global/State: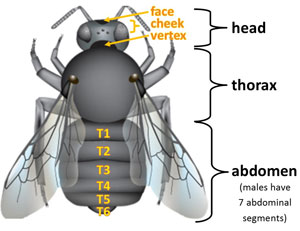 Identification:
Female – Face black with a dense yellow patch above the base of the antenna and vertex yellow. Thorax yellow with large black patch occasionally extending to the wingpads. Abdominal segments T1-2 black, T3-5 mostly yellow on the sides and black in the middle, and T6 black. Some morphs have a yellow T4 segment and have intermixed fringes on T5.
Male – Face intermixed and vertex yellow. Thorax yellow with large black band often extending to the abdomen. Abdominal segment T1-3, T4 and/or T5 yellow with black in the middle and T6-T7 black.
Other distinguishing features – Hair medium and even, wings light brown.
Similar Wisconsin Species:
Similar bumble bee species in Wisconsin are the Ashton cuckoo (B. bohemicus) and Fernald cuckoo (B. flavidus) (Williams et al. 2014).
Counties with verified B3 observations (in green). [Updated 4/8/2022]
Description of Habitat/Range:
In North America, this species occurs in a variety of habitats.
Nectar Plants
Short-tongued bumble bee. Food plants include: Asters, Eupatorium (Joe-pye weed), Heliomeris, Melilotus (sweet clovers), Rubus (blackberry), Senecio, Solidago (goldenrods), Trifolium (clovers), and Vaccinium (blueberry) (Williams et al. 2014, Colla et al. 2011).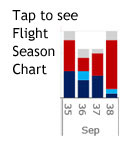 Flight Season:
Wisconsin's observation records took place between May and August. Rangewide queens emerge in May and enter diapause in August (Colla et al . 2011).
Literature Cited:
Colla, S., Richardson, L. and Williams, P. (2011) Bumble Bees of the Eastern United States. A product of the USDA Forest Service and the Pollinator Partnership with funding from the National Fish and Wildlife Foundation.
Hatfield, R., Jepsen, S., Thorp, R., Richardson, L. & Colla, S. 2014. Bombus insularis. The IUCN Red List of Threatened Species 2014: e.T44937688A68984117.
Williams, P.H., Thorp, R.W., Richardson, L.L. and Colla, S.R. (2014) The Bumble bees of North America: An Identification guide. Princeton University Press, Princeton.