Gomphidae, Clubtail Family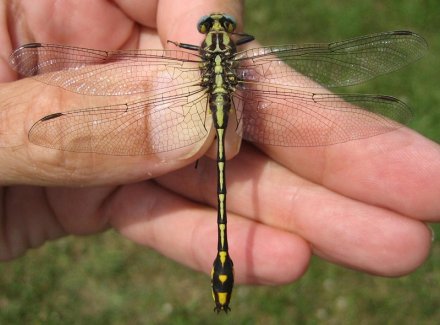 Status-Global/State:
Distinguishing Characteristics:
The plains clubtail has a black body with yellow markings all over, varying in length from 2.0 to 2.3 inches. It can be confused with
pronghorn clubtail
but plains clubtail is bigger. Clubtail species are very similar to each other in some aspects, careful inspection is needed to identify them.
Description of Habitat/Range:
Found in mid-United States, this species prefers moderately flowing rivers and large streams with muddy bottoms, occasionally lakes. It is only known from southwest counties in Wisconsin.
Flight Season:
The flight season, generally in its range, is from early April to mid-August. It is most common in spring. In Wisconsin, several adults have been documented from early June to mid-July.
(Click on photos to enlarge)