Who We Are
The DNR's Citizen-based Monitoring Coordinator handles most of the day-to-day running of the Network, and the Advisory Council provides input to guide our programming.
CBM Coordinator
Eva Lewandowski
As the DNR's Citizen-based Monitoring Coordinator, Eva coordinates the WCBM Network and works with many of the DNR's own CBM projects, especially those dealing with rare and nongame species. She has a PhD in Conservation Biology from the University of Minnesota, where she researched the conservation outcomes of citizen science. In addition to her work at the DNR, Eva serves on the Board of Directors on the Citizen Science Association and leads an international citizen science working group for the Society for Conservation Biology.
Advisory Council

Meg Domroese
As Director of Programs and Impact at Gathering Waters, Meg coordinates training and facilitates collaboration among land trusts and partners. Previously, at the Wisconsin Academy of Sciences, Arts, and Letters, she convened discussions on statewide water and climate issues. Meg served on the steering committee that launched the Citizen Science Association in 2014. She has a strong interest in the participant experience in citizen science and has conducted assessments of volunteers' motivations and learning gains. Meg led projects in Bolivia and British Columbia, among other places, in her previous position at the American Museum of Natural History's Center for Biodiversity and Conservation. These projects all aimed to promote participation in conservation through partnerships among scientists, educators, and community leaders.

Jeanette Kelly
As the Citizen Science Director at Beaver Creek Reserve, Jeanette helps to guide the education program, oversees all science activities and leads numerous citizen-based monitoring projects. In the ten years that Jeanette has directed the Citizen Science Center the community has been involved in a huge diversity of projects including studying bats, mussels, fireflies, invasive species, dragonflies, solitary bees, phenology, water quality, worms, rare plants, weevils and much more. In recent years, Jeanette has turned the Citizen Science Center's activities to focus on staff's strengths, her own strength being birds. Jeanette currently runs the Avian Monitoring Program, which includes three dozen extremely committed volunteers working on surveying and banding birds to aid in avian conservation.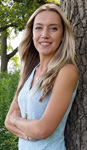 Julia Robson
Julia has over ten years of experience working in natural-resource management. She has worked throughout the Midwest on various projects including multi-taxa biodiversity assessments, habitat restoration, environmental education and community engagement, and environmental planning. Before coming to Waukesha County Parks in April of 2018, she worked for the Urban Ecology Center and Milwaukee County Parks. Julia also serves on several conservation-related boards and committees including the Southeastern Wisconsin Invasive Species Consortium, the Western Great Lakes Bird and Bat Observatory's Science Committee, and Waukesha County Land Conservancy's land management committee. In 2016 the community-based wetland-monitoring program that she developed for Milwaukee County was awarded the Wisconsin Department of Natural Resources' Citizen-Based Monitoring Program of the Year award. Julia graduated from the University of Wisconsin - Milwaukee (UW-M) in 2012 with a BS in biological sciences and a BS in conservation and environmental sciences, and in 2018, she was named "Graduate of the Last Decade" by UW-M's alumni association.

Sheryl Stidham-Gebert
Sheryl has been a science teacher at Appleton North High School in Appleton, WI, for the past 22 years. After completing a B.S. from Purdue University, she completed her master's degree from Marian University in 2002. Besides teaching biology at North, she co-sponsored the Environmental Club for many years. In 2010, the students at Appleton North began participating in the Lower Fox River Watershed Management Project for UWGB. The students have greatly enjoyed the opportunity to do real science in the field on Apple Creek. Students have also been involved in the Apple Creek cleanup team with Fox River Watershed Alliance. Besides standing knee-deep in a mucky stream to do data collection, she enjoys reading, travel, and spending time with her family. Involving students in citizen-based science has become a major interest in the past two years.

Mandie Zopp
As the Director of Research and Conservation, at Riveredge Nature Center, Mandie oversees all research, land management, and facility operations that occur on the Center's 379 acre sanctuary. Since 2011, Mandie has coordinated and taught adult education programs (including the Wisconsin Master Naturalist Program), mentored student research interns, led volunteer land stewardship groups, has conducted and implemented citizen-science projects throughout the sanctuary, and most recently launched Riveredge's Community Rivers Program (CRP). The CRP is a community-based approach to increasing water quality within the upper Milwaukee River Watershed. In addition to these year-round activities, Mandie coordinates Riveredge's annual Student Research Symposium, an event for Wisconsin undergraduate and graduate students to present their research. Mandie has worked with local, state, and national agencies throughout her career. Currently, she serves on the leadership team for the Wisconsin Water Thinkers Network and is a member of the Wisconsin Association of Environmental Educators.