Wisconsin Citizen-based Monitoring Awards
Since 2005, the Wisconsin Citizen-based Monitoring Network has recognized individuals and groups for outstanding achievements in citizen-based monitoring. Awards are given during the Network conference; prior to each conference, a call for nominations is issued for the following award categories:
Outstanding Achievement in Citizen-based Monitoring
Outstanding Achievement in Youth Citizen-based Monitoring
Citizen-based Monitoring Program of the Year
David N. Redell Award for Lifetime Achievement in Citizen-based Monitoring
---
Award Winners
---
2020 Wisconsin Citizen-based Monitoring Awards
Ryan Chrouser - Outstanding Achievement in Citizen-based Monitoring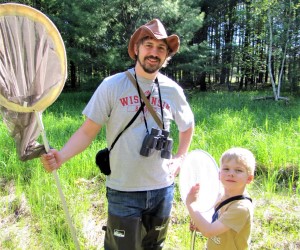 Ryan has made a profound impact on the monitoring of Wisconsin's dragonflies and damselflies. He currently serves as president of the Wisconsin Dragonfly Society (WDS) and is one of the most prolific contributors to the Wisconsin Odonata Survey (WOS). In 2019, Ryan submitted an astonishing 163 surveys for a total 1446 observations to WOS. Since 2002, he has submitted over 14,000 observations, which makes him one of the two most prolific and skilled contributors in the history of the program. He has a strong service ethic, often volunteering to do the hard work behind the scenes, and he loves to share his knowledge about dragonflies with others. He gives talks and leads field outings about dragonflies for the public to promote WDS and WOS, and to help people become more deeply engaged with nature.
Heidi Conde - Outstanding Achievement in Citizen-based Monitoring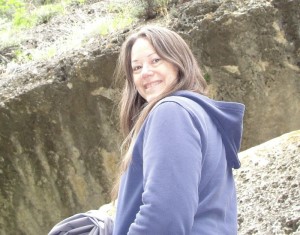 Nighttime projects often have a hard time finding volunteers, but Heidi Conde is stepping up to fill the need in the Eau Claire area! Heidi began her citizen-based monitoring adventure with owl surveys in 2005. Since then she has expanded her efforts to include nightjar surveys, mink frog surveys, the Wisconsin Frog and Toad Survey, and eBird. Over the years, she has participated in at least 106 wildlife surveys. Since 2010, Heidi has submitted 477 eBird checklists documenting under-surveyed night calling birds (e.g., ruffed grouse, snipe, killdeer, woodcocks, sedge wrens, marsh wrens, soras, Virginia rails, and catbirds). In the 2019 season alone, she completed 36 bird and amphibian surveys.
Licia Johnson - Outstanding Achievement in Citizen-based Monitoring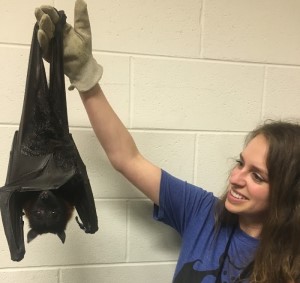 As a longtime employee of the North Lakeland Discovery Center, Licia is a familiar face to many in the Northwoods. Since 2010, she has coordinated the acoustic bat monitoring program at the Discovery Center. She works with around 40 bat monitoring volunteers each year, providing new and returning volunteers with training and coordinating the sharing of just two acoustic bat detectors between all participants. She answers calls late at night on her personal cellphone to assist volunteers having technical problems with the monitoring equipment. In 2019, the volunteers she supported successfully conducted 67 bat surveys. Licia further supports bat monitoring through her outreach efforts; she leads over 20 bat education programs for schools and community groups each year, reaching 500-700 people! While bats are often her primary focus, she also is involved in citizen-based monitoring of monarchs, birds, and amphibians.
Sue and Bob Volenec - Outstanding Achievement in Citizen-based Monitoring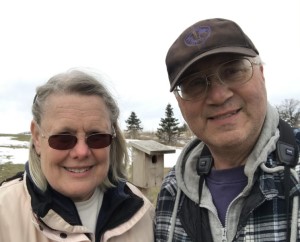 Since moving to Lake Mills a few years ago, Sue and Bob have become pillars in their local citizen-based monitoring community. They monitor water quality at two streams in Jefferson County through the Water Action Volunteers, and they are happy to cover for other stream monitoring volunteers when needed. They encourage others to become stream monitors by volunteering at public events and visiting local schools to teach children about the importance of streams. Their love of water had a major role in how they participated in the recent Wisconsin Breeding Bird Atlas. Bob and Sue monitored in a canoe, allowing them to observe birds in otherwise inaccessible sites. Their other birding contributions include the Annual Midwest Crane Count, kestrel nest box monitoring, the Christmas Bird Count, and the Swift Night Out. Sue and Bob are also active in the Zeloski Marsh frog monitoring team, bat monitoring, and the statewide AIS Snapshot Day.
Waukesha County Conservation in the Parks - Citizen-based Monitoring Program of the Year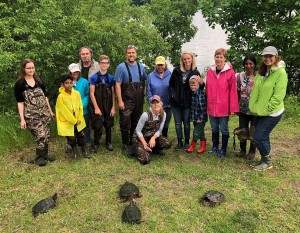 The Conservation in the Parks program engages Waukesha County volunteers to conduct citizen-based monitoring in their local parks, with the resultant data being used in land management decisions. In 2019, its first full year, the program had an astonishing 382 volunteers who collectively volunteered 2402 hours to monitoring! The public enthusiasm for the project was so high that the County Parks Department surpassed the number of volunteers they needed for their own properties and were able to assign some volunteers to monitor properties owned by partners like the Nature Conservancy. County staff and volunteers monitored wetlands, birds, bumble bees, snakes, dragonflies, and more. One of the most exciting findings was the presence of the federally endangered rusty patched bumble bee in three separate parks.
Mike Reese - David N. Redell Award for Lifetime Achievement in Citizen-based Monitoring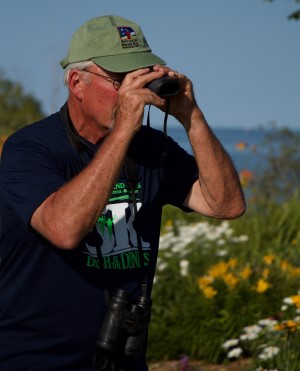 Mike is the first person ever to receive two individual Wisconsin Citizen-based Monitoring Awards; he was the recipient of an Outstanding Achievement Award in 2008 and since then has continued to dedicate himself tirelessly to citizen-based monitoring. Mike's commitment to butterfly monitoring is incomparable here in Wisconsin. With the help of his son, Mike created the Wisconsin Butterflies website over 15 years ago; the site provides a detailed guide to each of the state's butterflies and serves as a centralized location for butterfly observers to report their observations. He vets each observation that is submitted and communicates with participants regularly about their observations. For the last 15 years he has also been heavily involved in the North American Butterfly Association by leading counts in Wisconsin, compiling the data from all the counts in the state, vetting data coming in from across the Midwest, and contributing to the organization's quarterly magazine.

In addition to his work with butterflies, Mike played a crucial role in the recent Wisconsin Breeding Bird Atlas II, which ran from 2015 to 2019. He served as director of volunteers and crisscrossed the state recruiting and training volunteers. Mike was also the county coordinator for four different counties, traveling far from his home and even camping overnight to collect important data on breeding birds. His years of effort were essential to the success of the Atlas. On top of that, Mike has also been involved with other projects throughout the state. He observes bumble bees, tiger beetles, and robber flies, and he provided the photographs for the recently updated field guide Damselflies of Minnesota, Wisconsin & Michigan, a book used by many volunteers with the Wisconsin Odonata Survey.
---
Award Winners
---
2018 Wisconsin Citizen-based Monitoring Awards
Barbara Duerksen - Outstanding Achievement in Citizen-based Monitoring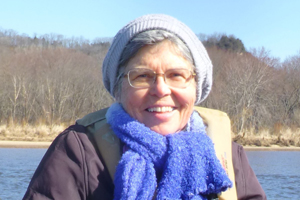 Barbara's award comes after 35 years volunteering with bird monitoring. She has served as Richland County's coordinator for the Annual Midwest Crane Count for 35 years, making her the longest serving county coordinator for that project. She also conducted bird surveys for the Breeding Bird Survey for 33 years and has served on the Board of the Wisconsin Society for Ornithology. In addition to her volunteer work counting cranes, Barbara is the current Richland County coordinator for the Wisconsin Breeding Bird Atlas, a project designed to document the distribution and abundance of all the bird species that breed in the state.
Jim Hess - Outstanding Achievement in Citizen-based Monitoring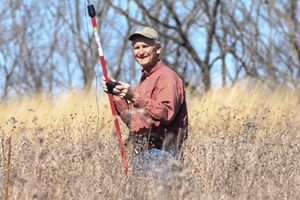 Jim has been a committed citizen-based monitoring volunteer in Lafayette County for almost two decades. He began his volunteer experience in 2001, when he participated in the Christmas Bird Count, and since then he's joined multiple volunteer projects. Currently, he counts bats at their summer roost sites, monitors and manages both bluebird and kestrel nest boxes, and surveys for rare plants. Additionally, he collects and submits plant and insect specimens to research collections. Jim frequently shares his volunteer experiences with others and introduces them to citizen-based monitoring.
Ansel Brenneman - Outstanding Achievement in Youth Citizen-based Monitoring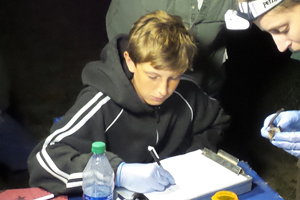 Ansel, a student at Laurel High School in Viroqua, was honored for his work conducting and promoting bat monitoring. Ansel got involved in bat monitoring in 2016, as part of an 8th grade school project. Since then, he's volunteered to count bats at their roosts and to monitor them with acoustic detectors, and he assisted DNR staff in capturing and banding bats. He's become extremely active in promoting bat conservation and volunteer monitoring, and has volunteered at educational events and given talks to youth and adults, sometimes with crowds of over 100 people.
Clean Lakes Alliance - Citizen-based Monitoring Program of the Year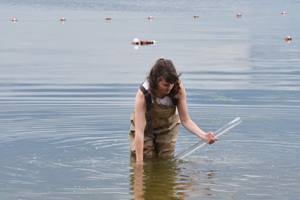 Clean Lakes Alliance, a nonprofit dedicated to improving and maintaining water quality in the Yahara River Watershed in Greater Madison, received an award for their Yahara Lakes Monitoring Program. Their program involves 70 volunteers throughout the Madison area who collect information on water temperature, chemistry, clarity, and other aspects of water quality. Most of their work takes place at nearshore monitoring sites, the parts of lakes most often used by the public for swimming, fishing, and paddling. Information gathered by the volunteers is made publicly available.
---
Award Winners
---
2016 Wisconsin Citizen-based Monitoring Awards
Milwaukee County Parks Natural Areas Program - Citizen-based Monitoring Program of the Year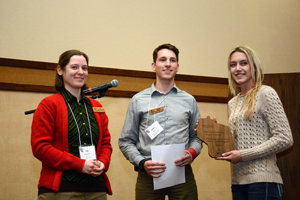 In 2014, the Milwaukee County Parks Natural Areas Program inventoried and documented 430 ephemeral ponds through their Ephemeral Pond Inventory Project, and with funding from the Citizen-based Monitoring Partnership Program, they expanded their CBM efforts in 2015 by conducting aquatic funnel trapping in the newly documented ephemeral ponds. Through the spring and summer of 2015, 42 citizen monitors volunteered a total of 625 hours. Volunteers confirmed populations of tiger and blue-spotted salamanders, discovered the first spotted salamander documented in their county since 1935, and found a new population of wood frogs and three new populations of Wisconsin's rarest native crayfish, the Digger's crayfish. This wealth of data is being incorporated into the program's ecological restoration and management plans.
Ben Johnston - Outstanding Achievement in Citizen-based Monitoring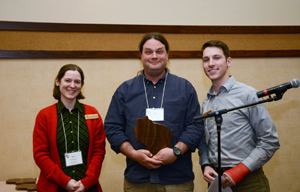 Ben has single-handedly made the Kickapoo Valley Reserve a stronghold for acoustic bat survey activity over the past few years, averaging over 30 surveys a year. Beyond his affinity for evening walks with a bat detector in his hand, He has become an advocate to educate and engage citizens in southwest Wisconsin to care more about their environment and to help participate in citizen-based monitoring projects. He has recruited countless volunteers in the region for bat surveys, turtle road crossing reports, and frog and toad surveys. Without the aid of his enthusiasm and determination, southwest Wisconsin would still be in the grassroots stage of citizen-based monitoring; however, because of his efforts, they are part of the forefront of the movement.
Nancy Carlson - Outstanding Achievement in Citizen-based Monitoring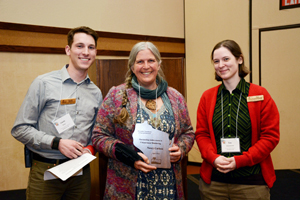 Nancy created the WATERshed program for the Racine Unified School District. Her program has helped more than 3,000 Racine 4th and 7th graders understand how their daily activities impact the Root River and Lake Michigan watershed. Every fall the 4th graders spend a day at the Root River Environmental Education Community Center, where they discover what's going down storm drains and how it travels to the rivers and lakes from their neighborhoods, as well as the species that act as indicators of water quality. Every spring, the 7th graders assess conditions of the lake shore and of a newly created lake wetland. Both grades conduct scientific tests for pH, dissolved oxygen, temperature, turbidity, and bacteria. 7th graders also learn how the wetland improves water quality in the lake as well as providing habitat for birds, insects and small mammals. These students grow up to become more knowledgeable citizens who understand the impact of healthy watersheds for our community, and advocates for the health of aquatic ecosystems.
Anne Kretschmann - Outstanding Achievement in Citizen-based Monitoring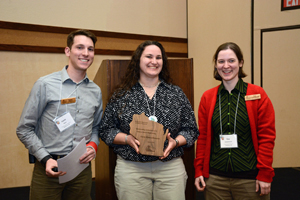 Anne initiated the first citizen-based lake level monitoring program in Wisconsin in 2008. Since its inception, the lake level monitoring program has grown to more than 40 lakes across Vilas County and has retained nearly 100% of its volunteers over the past 8 years. Soon after establishing this program, she coordinated a companion program with the Lac du Flambeau tribe which now has citizen lake monitors on an additional suite of lakes. The data collected by her programs are now entered into the SWIMS database in Madison, which did not routinely track water levels in Wisconsin lakes. She also developed a set of written protocols to guide the development of citizen lake level monitoring programs in other parts of Wisconsin, which formed the basis for DNR's current statewide lake level monitoring protocol.
Amber H. Van Den Heuvel - Outstanding Achievement in Youth Monitoring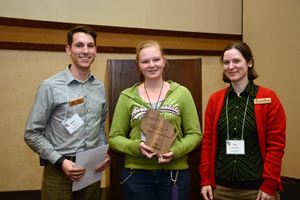 Amber has been a committed citizen science for the past five years. She first participated in citizen-based monitoring in 8th grade when she began monitoring amphibians at Oconto Marsh while volunteering for Bird Studies Canada's Great Lakes Marsh Monitoring Program. As a high school freshman, she became the Oconto County Crane Count Coordinator for the Midwest Crane Count and is still strongly committed today as a senior, even intending to continue her coordinator duties throughout college. She has, for the last 4 years, monitored 18 bluebird boxes, and she also helps monitor wood duck and purple martin houses for Bird City Oconto. In addition, Amber has participated in the Wisconsin Bat Monitoring Program's acoustic monitoring, as well as botulism monitoring along the shores of Lake Michigan.
Kris Stepenuck - David N. Redell Award for Lifetime Achievement in Citizen-based Monitoring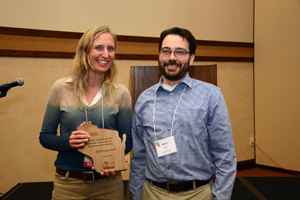 For 14 years, Kris coordinated the Water Action Volunteer program (WAV), greatly increasing its size and scope. In conjunction with WAV, she developed a curriculum for middle and high school teachers to use when doing stream monitoring with their students. She served for many years on the advisory council of the Wisconsin Citizen-based Monitoring Network. Her published research includes papers on citizen science volunteering and project outcomes, and she has also been involved in citizen-based water monitoring endeavors at the national level. She earned her MS in Natural Resources from UW-Stevens Point and her PhD in Environment and Resources from UW-Madison. Kris serves on the board of the Citizen Science Association and is now an Assistant Professor at the University of Vermont.
---
Award Winners
---
2013 Wisconsin Citizen-based Monitoring Awards
Ozaukee Fish Passage Program - Citizen-based Monitoring Program of the Year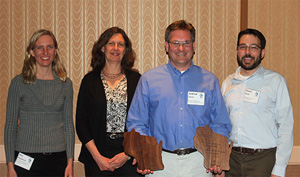 Since 2006, the Ozaukee County Planning & Parks Department has procured nearly $8 million in federal, state, local, and other funding to develop, refine, and implement the
Ozaukee Fish Passage Program
. Together, the department, municipalities, consultants, conservation corps, non-profit organizations, and volunteers have removed approximately 180 fish passage impediments in Ozaukee County, restored habitat and access to habitats, and monitored the environmental response of their projects reconnecting migratory Lake Michigan and Milwaukee Estuary fish populations previously removed from over 100 miles of stream and thousands of acres of wetland habitats. During 2011 and 2012, the Ozaukee Fish Passage Program and its consultants recruited 21 volunteers to collect species occurrence data across Ozaukee County to provide information for GIS Tool refinement and validation. These data will bolster ongoing GIS Tool efforts which will ultimately assist other regional, state, and local planning decision makers to evaluate riparian/aquatic habitat conservation initiatives economically and quickly, providing transferable knowledge throughout the Great Lakes Basin. This collective effort and the knowledge gained would not have been possible through the WDNR's existing fish management program.
The Wisconsin Citizen-Based Monitoring Network and Department of Natural Resources would like to recognize and thank The Ozaukee Fish Passage Program and all the staff and volunteers who have contributed so much to resource monitoring in Wisconsin.
Rick Frye - Outstanding Achievement in Citizen-based Monitoring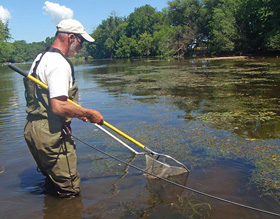 Rick has taken on a leadership role within the Ozaukee County Fish Passage Program's fish surveys and has gone above and beyond to exceed expectations as a Program volunteer. Rick is the most frequent survey attendee and has volunteered almost 30 hours of his time at five electrofishing survey events. Rick shares his passion for the environment with his commitment to developing positive relationships with fellow volunteers and by providing a leadership role during each event, helping to guide new volunteers into the labor intensive process. Rick has further demonstrated his commitment to citizen based monitoring, environmental stewardship, and the Program's efforts by bringing his grandchildren to observe an electrofishing survey that he was unable to participate in. In addition to his work with the Ozaukee Fish Passage Program, Rick also volunteers for the Southeast Wisconsin Chapter of Trout Unlimited.
Robin Squier - Outstanding Achievement in Citizen-based Monitoring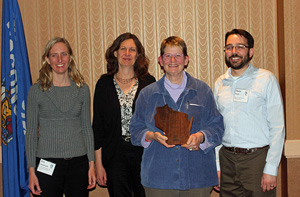 Robin has been an active volunteer with the Urban Ecology Center for nearly 7 years and has been dedicated to the Center's bird banding project since 2007. As a volunteer she has filled many roles at the Center from citizen science participant to citizen science advisor, volunteering over 150 hours of her time in 2012 alone. She currently serves as the co-chair of the Center's Institutional and Animal Care Use Committee, ensuring that the Center's research and monitoring projects treated wildlife in an ethical and humane way. Robin's biggest accomplishment as a volunteer this year was taking the lead in writing a proposal to make Milwaukee a Bird City. Milwaukee became the biggest Bird City in the state of Wisconsin as a result of her hard-work and dedication. Robin is a retired Milwaukee Public School District teacher and in her free-time she loves to bird and report her findings on eBird.
Dan Jackson - Outstanding Achievement in Citizen-based Monitoring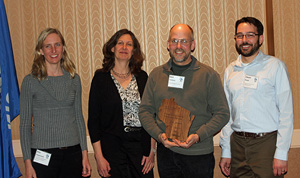 Dan has been an enormously avid and reliable citizen monitor for the Wisconsin Odonata Survey since 2009. He currently serves as vice president of the Wisconsin Dragonfly Society, frequently assists and encourages beginners with identification or ecological questions on the Dragonfly Society Facebook pages, contributes county record, state record and other desirable specimens to the Wisconsin Odonata Collection, donates photographs for use on the Wisconsin Odonata Survey website and for other educational purposes, and frequently and reliably assists with numerous Odonata research activities. Since 2009 he has contributed an amazing total of 4,051 Odonata records to the Odonata Survey, including a first state record of Tramea calverti. He also captured over 100 dragonfly nymphs and reared dozens in his home to provide material for the development of exuviae ID keys.
Ethan Bott - Outstanding Achievement in Youth Monitoring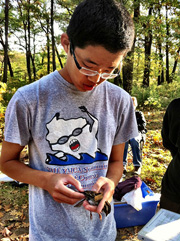 Ethan has been an active volunteer with the Urban Ecology Center for 5 years, starting at the Center when he was only 12 years old. He has volunteered over 300 hours to help the Urban Ecology Center's Research and Citizen Science programs, including 225 hours to the bird banding project alone. In addition, he has contributed over 75 hours of time on monarch, snake, and turtle monitoring surveys. He is so well respected and capable that he mentored a college intern to become the primary investigator on the monarch monitoring project. His willingness to support the project leaders and advance his research skills, especially at 5 in the morning for bird banding, has earned Ethan the respect and admiration of and appreciation by other seasoned volunteers. Ethan is a senior at White Fish Bay High School and will be attending the University of Wisconsin-Stevens Point in the fall.
Dave Redell - Lifetime Achievement in Citizen-based Monitoring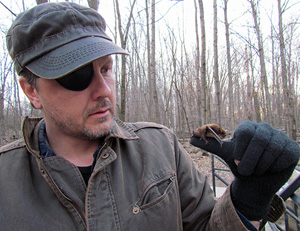 Dave Redell devoted his life to the study and conservation of bats; an intriguing and valuable, though often misunderstood group of animals now facing multiple threats. In 2004, Dave became the first bat ecologist for the Wisconsin Department of Natural Resources in the Bureau of Endangered Resources. In addition to building the DNR's Wisconsin Bat Conservation Program, Dave worked to enact vanguard regulations to protect Wisconsin bats and developed a plan that will guide the state's response to white-nose syndrome, a disease devastating hibernating bat populations in North America. Thanks to his efforts and the entire DNR "bat crew", the acoustic and roost monitoring projects of the Wisconsin Bat Monitoring Program has now grown to almost 500 volunteers. The amount and quality of the data collected by the bat program volunteers is vital in order to make sound conservation decisions for Wisconsin's seven bat species.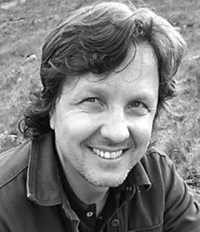 Dave was highly regarded by national, regional, and local partners, served as Vice President of the Midwest Bat Working Group, and recently initiated the first Wisconsin Bat Festival. In August of 2012, he was honored with the prestigious Silver Eagle Award from the US Fish & Wildlife Service and with a Lifetime Achievement Award from the Midwest Bat Working Group. Dave was grateful for the time and efforts made by the many volunteers of the Wisconsin Bat Program. He had a unique gift for inspiring instant camaraderie with people and those who interacted with him went away with a new appreciation for bats. Dave passed away after a long struggle with brain cancer in 2012.

Because of his dedication to and extraordinary achievements in bat conservation and citizen-based monitoring, The Wisconsin Citizen-based Monitoring Network and Advisory Council have declared that all future CBM lifetime achievement awards will be named the David N. Redell Award for Lifetime Achievement in Citizen-based Monitoring
---
Award Winners
---
2008 Wisconsin Citizen-based Monitoring Awards
Beaver Creek Reserve - Citizen-based Monitoring Program of the Year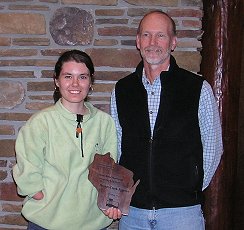 In 2008, Beaver Creek Reserve Citizen Science Center (CSC) staff and volunteers put in over 1,800 hours monitoring aquatic invasive species and educating boaters in west central Wisconsin about how to prevent the spread of invasive species. The CSC received a grant to expand this important program to a six county area in 2009.
CSC staff assisted numerous area organizations in developing the first Lake Fair at Lake Wissota State Park, which provided an opportunity for several hundred people to learn about lake issues. CSC staff and volunteers also monitored 12 wells and took water samples for nutrient testing in response to dredging activities on Lake Altoona, showing the responsiveness of the CSC to developing issues and dedication to local conservation efforts.
The CSC has partnered with the DNR since 2003 to develop and promote the NatureMapping Program. This year the CSC provided NatureMapping training for teachers in Rhinelander, the Chippewa Valley and Stanley-Boyd, for students at UW-Eau Claire and UW-Oshkosh, and others. A student volunteer from Wildlands Charter School helped create a series of online training videos for Wisconsin NatureMapping, which allows individuals to learn how to map wildlife observations without having to attend a training workshop. Additionally, 10 CSC volunteers were trained by folks from the National Institute for Invasive Species Science (NIISS) to identify terrestrial invasive plants and enter data in a national invasive species database. They have also worked on stream monitoring projects, the Wild Lakes BioBlitz Pilot, Worm Watch, the Lake Wissota Aquatic Plant Management Plan, the Acoustic Bat Monitoring Project and more. Even these projects, which are merely mentioned here, are significant accomplishments and could take paragraphs to fully describe.
The Wisconsin Department of Natural Resources and the Citizen-Based Monitoring Network would like to recognize and thank Beaver Creek Reserve, the Citizen Science Center and all the staff and volunteers who contributed so much to resource monitoring in Wisconsin in 2008.
Mike Reese - Outstanding Achievements in Citizen-based Monitoring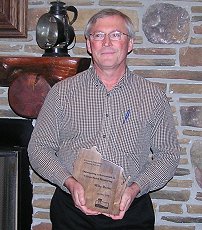 Mike Reese received an award for Outstanding Achievements in Citizen-based Monitoring for his remarkable efforts to generate citizen science data on butterflies statewide. Primarily, Mike is receiving this award for his website
wisconsinbutterflies.org
. The website provides a guide to butterfly species and online butterfly reporting. Anyone can see what has been reported and the photos that have been submitted. This provides unprecedented real-time quantitative information on species distribution, abundance, flight periods and broods. The information on this website provides a day-by-day record of butterfly populations across Wisconsin. The website has been running for 5 years with the online reporting now at the end of its 4th year. In 2007, the site recorded 550 reports from 195 contributors involving 3,300 observations of 130 species. Unlike other more limited sources of butterfly data, this website collects data on all our species, whether very rare or abundant. Mike also makes the online information available in a booklet containing the year's data for each species (88 pages in 2007).
In addition to all of Mike's work on the Wisconsin Butterfly website, he also is involved in the following volunteer-based activities:
Provided the photos for the field guide, "Damselflies of the North Woods" by Bob DuBois;
Co-authored the "Butterflies of Pheasant Branch Conservancy" checklist along with Dreux Watermolen;
Currently creating an online butterfly identification course;
Editor of the "Fourth of July" Butterfly Counts for the North American Butterfly Association (NABA) for Wisconsin and Minnesota;
Writes a column on North American butterflies for American Butterflies the Quarterly journal of NABA; and
Provides overall butterfly information for the web site of the U.S. Geological Survey.
Alycia Crall - Outstanding Achievements in Citizen-based Monitoring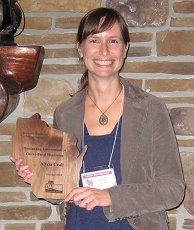 Alycia received this award for her great dedication not only to the resources we monitor, but also to the people who monitor the resources. Alycia came to WI from the team at Colorado State University that put together the National Institute for Invasive Species Science (NIISS). She came to get a PhD at the UW-Madison in the Botany Program where she had funding to determine ways to get citizens involved in invasive species inventory, monitoring and mapping. She introduced many people and organizations to the NIISS system and has trained many groups on how to set up their own invasives monitoring project and take part in those of others. A good example of this is the Worm Watch project that Univ. of Minnesota earthworm researchers have set up through the NIISS system. Also, Wisconsin's early detection invasive plant program, has all of its weed-watcher data going into NIISS as a database and mapping tool.
Alycia shows a particular knack for uniting interests in the natural history and field science with the coordinated databases that are the mainstay of current research into invasive species spread. She is also working on projects that compare citizen monitors to "experts" to discover if there is any difference in the quality of data that these two sources provide.
Andria Blattner - Outstanding Achievements in Citizen-based Monitoring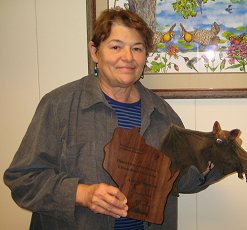 Andria Blattner completed a bat survey training session at the UW Arboretum in May 2008, and subsequently became a leading volunteer for Wisconsin's newly formed, citizen-based, bat monitoring project. Andria conducted sixteen night-time surveys in three counties on both land and water, and also two bat survey routes as part of the Dane County Chain-of-Lakes Bat Survey. She encouraged friends to join her and taught them how to conduct these surveys. Only weather and the availability of survey equipment kept Andria from doing even more surveys. Her enthusiastic support and interest in the project is worthy of recognition as it is folks like Andria who will make the bat monitoring project both possible and a success in Wisconsin!
Jennifer Callaghan - Outstanding Achievements in Citizen-based Monitoring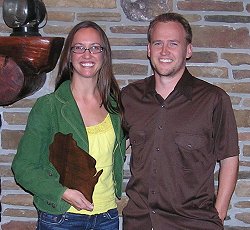 Jennifer received this award for her work on various monitoring projects at the Urban Ecology Center. Currently, the Urban Ecology Center is running about a dozen citizen-based monitoring projects. Jennifer has not only volunteered for every single one of these projects, she has taken a leading role in three of them.
For the third year in a row, she has taken the leading role in the small-mammal monitoring project. In addition to baseline monitoring she has incorporated additional side projects, while coordinating volunteers as a volunteer herself and bringing the project to local schools through outreach.
This is also her third year of taking a leading role in the migratory bird monitoring project. She has become skilled in every aspect of the project from bird handling to extraction from mist-nets to sampling blood to training new volunteers, which the project brings in on a regular basis.
Finally, the third project she has taken a lead role in is co-primary investigator in monitoring turtles along the Milwaukee River. Jennifer has spent countless hours setting and checking traps, doing visual surveys by canoe and by foot, and helping to organize volunteer participation.
This year alone she logged more than 500 hours of her time to these projects, and over the past three years she has given more than 1200 hours of her time. This is an amazing feat just by itself but becomes even more special given that she also works full-time as a professional dance instructor.
Community GroundWorks at Troy Gardens & Monona Grove Alternative School - Outstanding Achievements in Youth Monitoring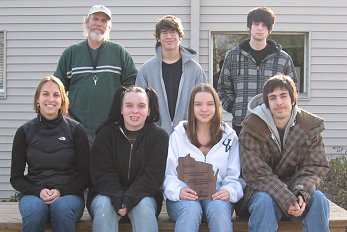 Troy Gardens and Monona Grove Alternative School formed a new partnership this past year to monitor and control invasive reed canary grass on a tallgrass prairie at Troy Gardens. Maury Smith from Monona Grove School and Christie Ralston from Troy Gardens are co-organizing the effort.
Twenty-two students are working together to develop a monitoring plan, set up test plots, and implement a management plan. Students apply different treatments to plots including close mowing, removing seed heads, digging grass out, covering with black plastic, wood chips, and planting competing species. All the data collected will be analyzed by the students and presented in a final report that will result in a management plan. The final report will be presented to the Troy Garden staff and board members. In addition to the presentation, students will report their results to their peers through creating radio, TV, and internet-delivered reports.
This project is receiving the youth monitoring award for not only their outstanding monitoring efforts but for setting a model example of how students can participate in a community project while at the same time learning new skills that satisfy and compliment course curriculum.
Eugene Jacobs - Lifetime Achievement Award for Citizen-based Monitoring Efforts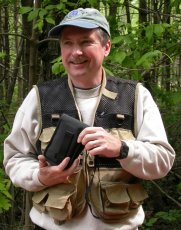 The sole recipient for 2008 and 3rd ever, is Eugene Jacobs, Director of the Linwood Springs Research Station, for a lifetime of achievement in raptor research, monitoring and education.
Gene Jacobs is one of the most notable figures in Wisconsin raptor research today. Gene started monitoring red-shouldered hawks in Green Bay in 1972 and has continued the project in Stevens Point since 1975, totally 37 years to date which is the longest ongoing red-shouldered hawk study in North America.
In 1988 Gene started research projects on breeding sharp-shinned hawks and migrant saw-whet owls, both of which continue today as well. Gene and his volunteers have captured and banded over 10,000 saw-whet owls, leading to 250 band recoveries ranging from Manitoba to New Jersey and Tennessee. Gene has author or co-authored 11 peer-reviewed articles on American kestrels, red-shouldered hawks, saw-whet owls, and raptor field techniques.
As significant as these accomplishments have been, perhaps the longest lasting contribution Gene has made to citizen-based monitoring has been through his outstanding education and training programs. Since 1988, Gene has trained and provided significant hands on experience to 12 interns, 135 dedicated volunteers, 125 workshop students and approximately 3,000 people who have attended his owl programs, all in his modest basement office!
Few private researchers have shown the incredible dedication and level of accomplishment that Eugene Jacobs has in the past 30 years, so it is with sincere gratitude and respect that the Wisconsin Department of Natural Resources and the Citizen-Based Monitoring Network of Wisconsin recognize his lifetime of achievement.
The "Citizen-Based Monitoring Award for Lifetime Achievement" was initiated by the Wisconsin Department of Natural Resources in 2005 to recognize substantial, long-term contributions by the public in monitoring Wisconsin's natural resources.
Angela Engelman - Special Recognition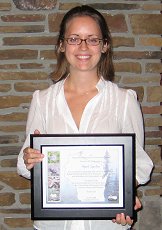 Angela Engelman, our Citizen-Based Monitoring Program Coordinator in 2007-08, received a plaque and a standing ovation at the 2008 awards banquet in recognition for her leadership, dedication and outstanding service to the people in the Citizen-Based Monitoring Network of Wisconsin. Thank you Angela!
---
Award Winners
---
2007 Wisconsin Citizen-based Monitoring Awards
(Note: all award recipients are accompanied in the photos by members of the Citizen-based Monitoring Advisory Council: Peter Murray, Kris Stepenuck, and Nancy Turyk.)
Milwaukee County Avian Migration Monitoring Partnership - Citizen-based Monitoring Program of the Year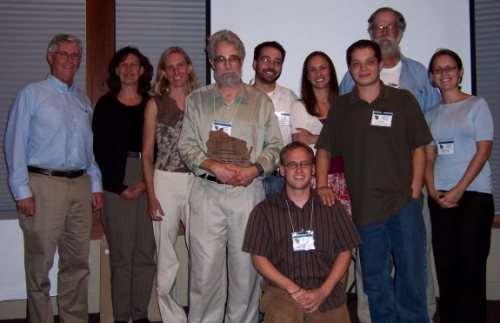 The Milwaukee County Avian Migration Monitoring Partnership represents a unique connection between publishable science, education, and community involvement. Since 2006, more than 100 citizen volunteers from the Milwaukee area have contributed their time to study the quality of Milwaukee County parks as urban stopover sites for migratory birds. By establishing this network of trained citizen monitors, the Milwaukee County Avian Migration Monitoring Partnership intends to foster long-term monitoring of birds in Milwaukee County, a project that will serve as a model for other urban areas nationwide. The project is currently in its 2nd field season in its 2nd year of study.
Central Wisconsin Chapter of Trout Unlimited - Citizen-based Monitoring Program of the Year
This group of volunteers has become an incredible asset in terms of collecting stream monitoring data. They began their participation in volunteer stream monitoring with the Water Action Volunteers program in 2005 and in 2006 they began participating in the level 2 stream monitoring pilot project. They have continued their participation in 2007 with level 3 research.
The group is extremely well organized, motivated, and ambitious. They are willing to partner wherever they can help to assist with management of surface water resources in their area (and beyond). They provide educational training and support throughout a multi-county area, and commit numerous hours to improving and ensuring the quality of their efforts.
Lynn Ratkowski - Outstanding Achievements in Citizen-based Monitoring
Lynn Ratkowski has shown an incredible amount of dedication to the Milwaukee County Avian Migration Monitoring Partnership in Milwaukee County. Entering her 4th field season, Lynn has volunteered in more than 90% of the banding days for the project. She has made the long drive from Burlington to the east side of Milwaukee twice a week (12 weeks a year) before sunrise bringing a strong work ethic and a contagious enthusiasm. She does this in addition to her full-time work with an online learning agency and other volunteering duties (editor of the WBCI newsletter, volunteer banding with the Riveredge MAPS project). Lynn has quickly mastered the art of bird banding, (extraction, processing and sampling blood) becoming indispensable during migration fallouts and allowing project personnel a peace of mind that the project is in good hands as we train new volunteers. Lynn truly embodies the spirit of a dedicated citizen volunteer.
John and Cindy Anderson - Outstanding Achievements in Citizen-based Monitoring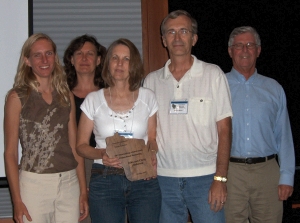 Since September of 2005, John and Cindy Anderson have submitted 393 Odonata records from 16 counties to the Wisconsin Odonata database. Of these, 184 were new county records! They have traveled widely at their own expense to survey areas of southern Wisconsin where Odonata communities were not well known. The work they have done has added very significantly to knowledge of statewide distributions and critical habitats for many species of Wisconsin Odonata. John and Cindy Anderson exemplify the most desirable qualities of citizen monitors, including a deep commitment to their work, a very positive attitude, and strong interest in resource protection.
Grantsburg High School - Outstanding Achievements in Youth Monitoring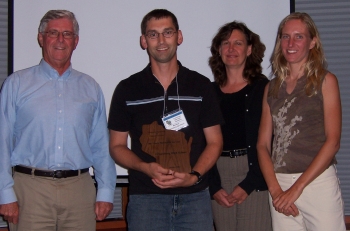 Matt Berg is a biology teacher at Grantsburg High School and has been leading his students in monitoring activities for many years. Just in the past four years since the citizen monitoring network has started, he and his students have accomplished quite a bit! Through 2004 and 2006, students from Grantsburg High quantitatively analyzed the mussel communities in northwestern Wisconsin. The students have also been involved with monitoring dragonfly communities on the St. Croix River and its Wisconsin Tributaries.
Noel Cutright - Lifetime Achievement Award for Citizen-based Monitoring Efforts
In the twentieth (and now 21st) century, few have done more to advance citizen-based monitoring efforts in the field of Wisconsin ornithology than Noel Cutright. He has tirelessly promoted and participated in the Federal Breeding Bird Survey for 30+ years. This culminated in a Quad 30 campaign in which he raised $50,000 for Important Bird Areas by running 33 consecutive Breading Bird Survey routes in 33 days! Noel has participated and organized hundreds of Christmas Bird Counts over the years and has recently acted as the Wisconsin coordinator for the Great Backyard Bird Count. More recently he devoted countless hours of his "free time" to organizing a five year breeding bird atlas effort for Wisconsin and eventually serving as an editor for the 600 page book! The respect for Noel and his popularity within the birding community and the Wisconsin Society for Ornithology (WSO) have allowed him to act as a catalyst for many of the important citizen-based monitoring efforts across the state for the last 30 years.
Through his work with We Energies. WSO, or the Riveredge Bird Club, Noel has a long history of putting monitoring results to use through conservation action. Whether it's Osprey platforms, Peregrine Falcon nest boxes, bluebird trails, State Natural Areas or important reserves in Belize, Noel has been active in a number of important conservation campaigns. More recently Noel was instrumental in helping to form the Wisconsin Bird Conservation Initiative (WBCI), which is looked to as a leader in state-based coordinated bird conservation efforts.
---
Award Winners
---
2006 Wisconsin Citizen-based Monitoring Awards
Lake Koshkonong Wetlands Association - Citizen-based Monitoring Program of the Year
The 2006 Citizen-based Monitoring Program of the Year award was given to the Lake Koshkonong Wetlands Association (LKWA) for their bird monitoring efforts on Lake Koshkonong and adjancent habitats in support of their nomination of Greater Lake Koshkonong as an Important Bird Area (IBA). The LKWA organized teams of volunteer birders to document migratory and breeding bird use of the site throughout the year. They recorded large concentrations of migratory waterfowl and documented important breeding populations of Black Tern, Yellow-billed Cuckoo, Acadian Flycatcher, Prothonotary Warbler and other species of greatest conservation need. As a result of this effort the site was approved by the IBA technical committee and was dedicated as an Important Bird Area on Sept. 16, 2006.
Roy and Charlotte Lukes - Lifetime Achievement Award for Citizen-based Monitoring Efforts
The 2006 Lifetime Achievement Award for Citizen-based Monitoring Efforts goes to Roy and Charlotte Lukes for their long-term efforts to better understand and monitor the important flora and fauna of Door County. Roy and Charlotte have been active in organizing Christmas Bird Counts, regional coordinators for the Breeding Bird Atlas, the Wisconsin Society for Ornithology, the Inland Bird Bander's Association, the Wisconsin Botanical Club, and many other monitoring activities at the Ridges Sanctuary and other great places in Door County.
Most people know Roy for his long running weekly nature column in various newspapers of the area. His columns documenting the flora and fauna of Door County have delighted and educated thousands of people throughout the years. For all of the above reasons, Roy and Charlotte were recognized for a lifetime of Citizen-based Monitoring.
E.T. (Tug) Juday - Outstanding Achievements in Citizen-based Monitoring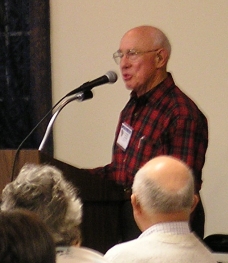 Tug Juday is being recognized for his long-term outstanding achievements in Citizen-based Monitoring. In 2006, Tug Juday was given the "Award of Volunteer Excellence" by the Wisconsin Lakes Partnership for over 15 years of dedication in monitoring water clarity and chemistry on Anderson Lake in Vilas County. In 1996, Tug became a member of the "Century Club" for collecting more than 100 clarity readings on Anderson Lake. His passion for monitoring and maintaining good water quality began with his uncle, the late Chancey Juday, who along with E.A. Birge, were limnology pioneers and founders of the School of Limnology. Tug sent CLMN a thank you letter for the award, in it he said of volunteer monitoring - "It has made me, my children, especially Pat, grandchildren and great grandchildren feel a part of the Lake. Once I thought I at least partially owned the Lake. No more. Now it owns me." His passion, love and dedication to preserving our natural resources, especially our water resources, are inspiring. He has involved the next generations of the Juday family in water quality monitoring to make sure that protection of Anderson Lake continues.
Tug devotes his time, money and effort towards helping his community, whether it is the natural community or the Town of Land O'Lakes. The local library and Historical Society also benefit from Tug's generous spirit. For many years, Mr. Juday was the President of the Land O'Lakes Fish and Game Club. In that capacity back in the 1980's his support of the Self-Help Lake Monitoring Program enlisted many new clarity volunteers on lakes in Vilas County.
Robert Green - Outstanding Achievements in Citizen-based Monitoring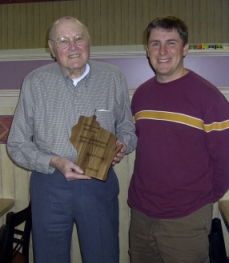 Established in 1978, LoonWatch is home to the oldest citizen-based monitoring program in Wisconsin, the Annual Lake Monitoring Program. Robert Green has monitored loons longer than anyone else in the program. His recordkeeping, beginning in 1975, pre-dates LoonWatch. Thus Robert was a natural citizen monitor long before such a title existed. Lake residents call him "Grandfather Loon" for his protectiveness of the loons and his dedication to their conservation. In 2001, Robert received LoonWatch's Volunteer Recognition Award for his many years of service to LoonWatch and the loons of Wisconsin. After 28 years of submitting reports (never missing a single year) and 31 years of loon monitoring, in 2005 Robert contributed his last loon report to LoonWatch and passed on the responsibility of monitoring and protecting the Lynx Lake loons to his two sons.
For as long as he has monitored loons, Robert has also maintained ice-out records for his lake. He co-founded the Lynx Lake Property Owners Association, Vilas County, in 1985 and served on its original Board of Directors. Robert is an avid birder and has been a long-time supporter of Riveredge Nature Center participating in the bird club and birdathon events. Robert is a model volunteer whose lifelong dedication to monitor a species he loves should be a shining example for others in the state.
Rollie Alger - Outstanding Achievements in Citizen-based Monitoring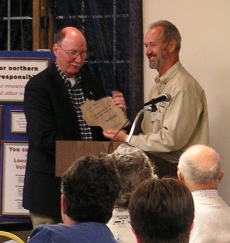 Rollie Alger is being recognized for outstanding achievements in Citizen-based Monitoring for 2006. Rollie has taken responsibility for monitoring the entire Deerskin River for water quality and invasive species and is a long-term LoonWatch volunteer, chairman of the Vilas County Aquatic Invasive Species Partnership Research Committee and a NatureMapping instructor. Rollie stepped forward to monitor the Deerskin River when grant money and volunteer effort were lean and continues with the work to this day. The Town of Washington and its Water Resource Task Force are deeply grateful to Rollie for his expertise and volunteer spirit and for his gift of this project to his community and to this state.
Paul Mahlberg - Citizen Monitor of the Year
Paul Mahlberg of the Kangaroo Lake Association (Door County) has been named the 2006 Citizen Monitor of the Year. Paul has participated in water quality monitoring on Kangaroo Lake for the last 14 years, and data from this effort have been important for DNR and association efforts to protect water quality at Kangaroo Lake.
Being a retired Botanist, Paul has taken an interest in monitoring and restoring plants at Kangaroo Lake. In 1995 Paul discovered Eurasian water milfoil in the lake and has participated in a 10 year control and monitoring effort for this invasive species. In addition, Paul is taking the lead on a 3-year effort to monitor the restoration of bulrushes to this shallow water lake.
Paul is a recent graduate of the Lake Leaders Institute and a dedicated citizen who is always willing to dedicate time to this important resource.
Bryan Huberty - Outstanding Achievements in Citizen-based Monitoring
Bryan Huberty has dedicated much of the last two years towards monitoring the restoration of the 1490 acre Zeloski Muck Farm. Bryan has spent countless hours training volunteers to lead monitoring teams, active throughout the year, in documenting which birds, butterflies, odonates, plants, etc. are present before and after restoration efforts. It is hoped that Bryan's work might serve as a model for other large volunteer-based restoration monitoring efforts in the upper Midwest.
Shirley Ellis - Outstanding Achievements in Citizen-based Monitoring
Shirley Ellis is described as a "one-of-a-kind" super volunteer for monitoring and stewardship efforts of the Rock River Coalition, Madison Audubon Society, Prairie Enthusiasts, and the Friends of Cam-Rock and Lulu Lake Associations. Her efforts on the Zeloski Marsh Project and other Rock River Coalition monitoring projects are the major reason that the Rock River Coalition was named citizen-based monitoring program of 2005.
Shirley devotes most of her free time to studying, protecting, and restoring natural areas in southeast Wisconsin and for that she is recognized by the Citizen-based Monitoring Program in 2006.
Gale-Ettrick-Trempealeau High School - Youth Monitors of the Year

Jon Johnson and his students at Gale-Ettrick-Trempealeau High School were awarded the 2006 Youth Monitors of the Year award for their work monitoring 4 different streams in their community. Each student spent a portion of their summer vacation time monitoring basic water quality indicators, macroinvertebrate sampling and even helped DNR crews with habitat and fisheries sampling. This information will be used by the DNR as part of a paired stream monitoring information in assessing the compatibility of other citizen-based monitoring data. Most importantly, the students learned to work in small groups to accomplish their specific site monitoring, and learned to coordinate with other student teams when sharing equipment and calibrating the meters. Transferable skills to any work or team venture.
---
Award Winners
---
2005 Wisconsin Citizen-based Monitoring Awards
Wausau West High School - Youth Monitors of the Year
The 2005 Youth Monitors of the Year award was given to the 400 9th grade monitors of Wausau West High School for their Wisconsin River Watershed Quality Project. The goal of this project is to determine the possible water quality impacts of the Black Creek Tributary on the Wisconsin River. These students are responsible for monitoring a variety of water quality parameters on the river under the guidance of their science teacher, Carla Gerstenberger. Their data have been used by the Water Action Volunteers (WAV), Marathon County Land Conservation Department, DNR, and Wisconsin River Education Network (WREN). These students have also presented their data at a WREN symposium at UW-Stevens Point.
Rock River Coalition - Citizen-based Monitoring Program of the Year
The Rock River Coalition (RRC), encompassing portions of southeastern and south-central Wisconsin, has received the 2005 Citizen-based Monitoring Program of the Year award. Two of RRC's primary projects, the Volunteer Stream Monitoring Program and the Volunteer Wetland Restoration Monitoring Program, have contributed a significant amount of data to local conservation efforts. The Volunteer Stream Monitoring Program has trained over 180 citizens to monitor streams in the 3700 square mile Rock River Basin. Yearly workshops are held to train new and continuing monitors. The Volunteer Wetland Restoration Monitoring Program began in 2004 and is currently working on a 1492 acre farm that will be restored to a wetland in 2006. A variety of wildlife and water quality surveys are currently being conducted on the farm to provide pre- and post-restoration data.
Jill Graf - Citizen-based Monitor of the Year
Jill Graf of the Conserve School has dedicated her time to water quality issues as well educating young students. She has worked with the Department of Natural Resources and Black Oak Lake Association on various projects including a comprehensive lake management plan for Black Oak Lake and water quality analysis on Moccasin Lake in Vilas County. Jill has also devoted a great deal of time to helping students become environmental stewards. She is an Envirothon advisor whose team has won the Wisconsin State Championship three times and placed in the International Canon Envirothon. Jill has also authored two children's field guides for aquatic plants and insects.
Krista James - Citizen-based Monitor of the Year
Krista James, biology professor at the University of Wisconsin-Stout, has been honored for her work on the Galloway Creek watershed in Menomonie, Wisconsin. Because of her own interest in the area and with the help of many students, community organizations, and the local government she has worked to restore and monitor the watershed. Watershed work has included monitoring water quality and local invertebrate populations, stream clean-ups, purple loosestrife control, and rain garden installations. Krista's efforts have long been recognized and appreciated by her students, colleagues, and community.
Kay Scharpf - Citizen-based Monitor of the Year
Kay Scharpf has been a Self-Help Volunteer Lake Monitor on Franklin Lake in Forest County since the program began in 1986. In this time she has collected hundreds of water clarity readings and water samples. Kay has also been instrumental in improving Self-Help Lake Monitoring protocols. In 2000, Kay served as a chemistry volunteer to compare water data taken between different methods. Research biologists used these data to determine which method was most accurate and should be used into the future. Kay also participates in the Breeding Bird Survey and Loon Rangers program.
Pete Jopke - Citizen-based Monitor of the Year
Pete Jopke has been committed to volunteer monitoring for nine years. Pete's current position as the Dane County Watershed Project Manager gives him the unique opportunity to work with and utilize data collected by citizen monitors. Pete has organized citizen monitoring training sessions, worked with a variety of county and state organizations, and mentored local students. Pete has worked with the Water Action Volunteer (WAV) program and was also a member of the Rock River Coalition Water Quality Issue Team, helping to design the Rock River Basin Citizen Stream Monitoring Program. Pete has worked with numerous citizen monitoring groups and donates a large amount of his time to working with volunteers and stressing quality control issues with collected data.
Jane Swenson - Citizen-based Monitor of the Year
Jane Swenson has been an integral part of citizen monitoring in the Delta and Iron River area of Bayfield County. She has been an active volunteer on several local lakes and recruits new volunteers for the Self-Help Lake Monitoring Program. Jane helped to develop a lake stewardship newsletter that provided a monitoring protocol used by the majority of the Self-Help Lake Monitoring volunteers in northwestern Wisconsin. She has also recently drafted and applied for an Aquatic Invasives Species grant after Eurasian water milfoil was discovered in two area lakes. The resulting program helps to educate local boaters as well as document the distribution of Eurasian water milfoil in the area. Jane has worked hard to unify local organizations on water quality and invasive species issues.